Learn All About Planning Your Visit To The Thames River Cruise
Contents
Plan Your Visit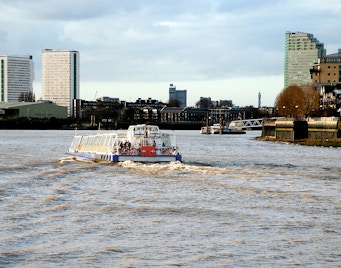 Sightseeing Cruises
Opening Hours: 10 AM - 10 PM
Duration: 1-2 Hours
Must Know: 
These cruises are designed for tourists and offer a leisurely journey along the Thames, providing panoramic views of London's famous landmarks. The cruises often pass by attractions such as the Tower of London, Tower Bridge, Big Ben, the London Eye and St. Paul's Cathedral. Many boats have open-air decks for better visibility and photo opportunities.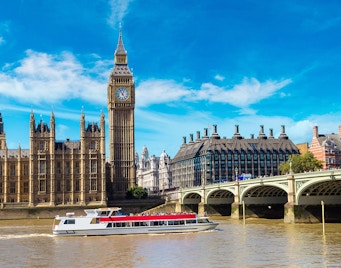 Hop-on Hop-off Cruises
Opening Hours: 10 AM - 5 PM (depending on the season) 
Duration: 2 to 2.5 hours
Must Know: 
The main advantage of hop-on hop-off cruises is the flexibility they offer, allowing passengers to disembark and explore at their own pace. The duration of your experience will depend on how long you choose to spend at each stop before rejoining the cruise to continue your journey.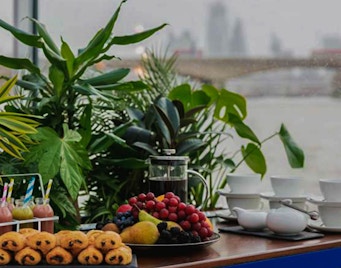 Lunch Cruises
Opening Hours: 12 PM - 2 PM 
Duration: 2 to 3 hours
Must Know:
Lunch cruises often include a pre-set menu or buffet-style meal served on board. The exact offerings and dining experience can vary, ranging from traditional British cuisine to international flavors. Additionally, many lunch cruises provide live entertainment or music to enhance the overall experience.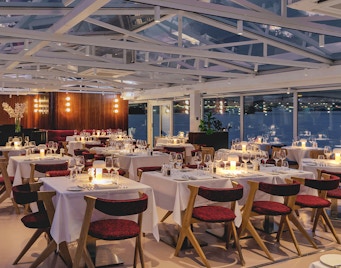 Dinner Cruises
Opening Hours: 7 PM - 9 PM
Duration: 2 to 3  hours
Must Know: 
Most dinner cruises provide ample time to enjoy your meal, take in the illuminated cityscape, and partake in the onboard entertainment. Booking in advance is recommended, especially during peak tourist seasons, to secure your spot and avoid disappointment. 
Know Before You Go On A Thames River Cruise
Boarding Points
Facilities
Best Time to Visit
Thames River Cruises With Kids
Rules And Regulations
What To Wear
Westminster Pier
Westminster Pier: Located near the iconic Houses of Parliament and Big Ben, Westminster Pier is a popular boarding point for Thames River cruises. It provides convenient access to major landmarks and attractions in central London.
Address: Westminster Pier, Victoria Embankment, London, SW1A 2JH
By Bus: Bus Route 453, 474
By Tube: District, Jubilee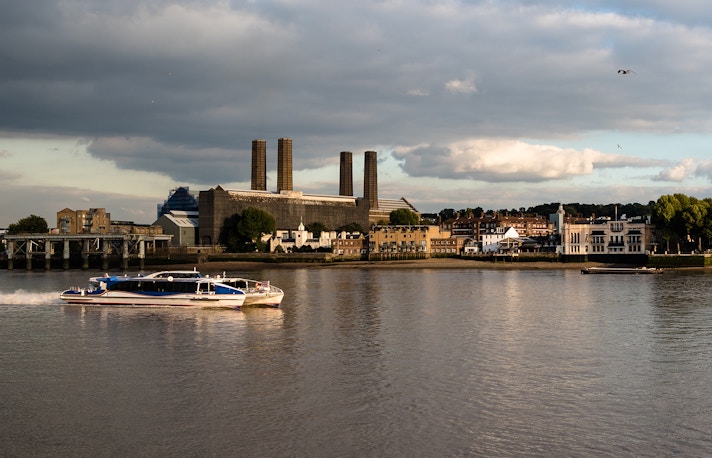 Greenwich Pier
Greenwich Pier: Located in Greenwich, this boarding point is ideal for passengers interested in visiting the historic Greenwich attractions such as the Cutty Sark, the National Maritime Museum, and the Royal Observatory.
Address: Greenwich Pier, King William Walk, London, SE10 9HT
By Bus: Bus Route 473, 474
By Tube: Jubilee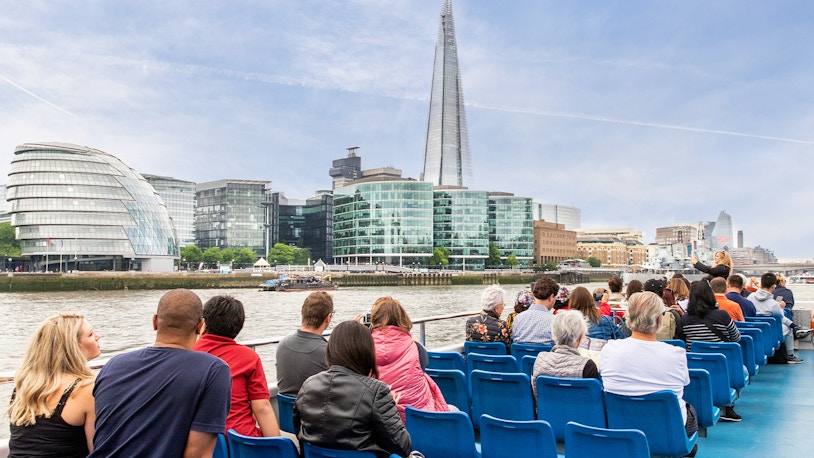 Indoor and Outdoor Seating: Cruises often provide both indoor and outdoor seating options, allowing passengers to enjoy the scenic views from the comfort of their preferred location.
Panoramic Windows: Many cruise vessels have large panoramic windows, providing excellent views of the River Thames and its surroundings.
Open Decks: Outdoor decks are available on most cruises, allowing passengers to enjoy the fresh air and unobstructed views while cruising along the river.
Live Commentary: Informative and entertaining live commentary is sometimes provided during the cruise, giving passengers interesting insights into the landmarks, history, and notable sights along the Thames.
Restrooms: Cruises generally have restroom facilities available for passengers' convenience.
Entertainment and Music: Some cruises may provide onboard entertainment, such as live music, DJs, or themed events, adding to the festive atmosphere during the cruise.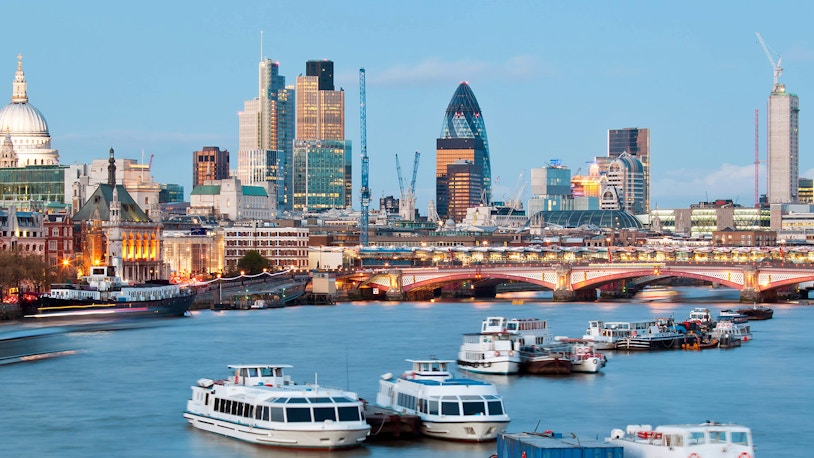 Spring (March to May): Mild temperatures, ranging from around 10°C (50°F) to 15°C (59°F). Generally less crowded compared to the summer months.
Summer (June to August): Warmer temperatures, ranging from around 18°C (64°F) to 25°C (77°F). Vibrant atmosphere and outdoor events taking place. More crowded compared to other seasons, especially in popular tourist areas.
Autumn (September to November): Mild temperatures, ranging from around 10°C (50°F) to 18°C (64°F). Generally less crowded compared to the summer months.
Winter (December to February): Cold temperatures, ranging from around 2°C (36°F) to 8°C (46°F). Festive atmosphere, with lights and decorations but shorter daylight hours. Generally less crowded compared to the summer months.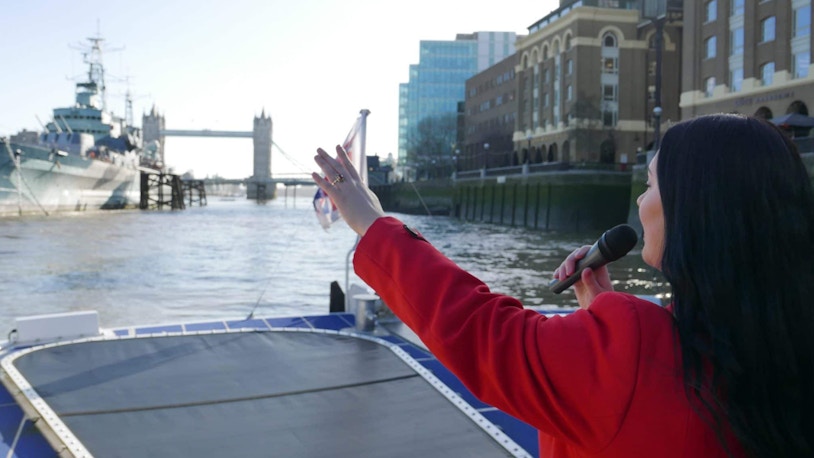 Scenic Views: It provides a unique perspective and can be educational as well.
Live Commentary: Many Thames River cruises offer live commentary during the tour, providing interesting facts and stories about the landmarks and history of London..
Entertainment and Activities: Some Thames River cruises offer special cruises designed for families with kids. 
Safety: Ensure the safety of your children during the cruise by following any safety instructions provided by the cruise operator. Keep an eye on younger children and make them aware of the rules and boundaries onboard.
Follow Instructions: Listen to and follow the instructions given by the cruise staff or crew members. They are there to assist you and ensure everyone's safety.
Safety Equipment: Familiarize yourself with the location of safety equipment on board, such as life jackets or flotation devices
Stay in Designated Areas: Respect any designated areas or restricted zones on the boat. Some areas may be off-limits for safety or operational reasons.
Children's Supervision: Keep a close watch on your children and ensure they are supervised at all times during the cruise.
 Smoking Policy: Most Thames River cruises have a no-smoking policy indoors, including enclosed areas or cabins. 
Littering and Cleanliness: Help maintain the cleanliness of the boat by disposing of any waste or trash in designated bins.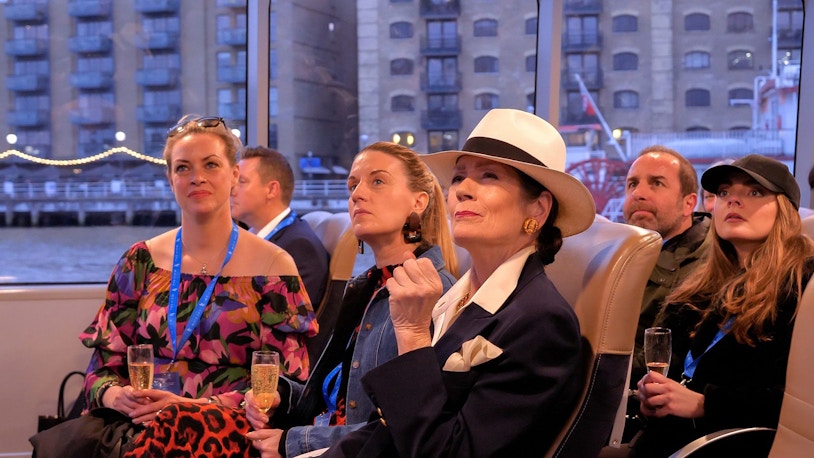 Comfortable Clothing: Opt for comfortable attire that allows freedom of movement. 
Layered Clothing: London weather can be changeable, so it's advisable to dress in layers. This way, you can easily adjust your clothing to accommodate temperature changes throughout the cruise. 
Weather Protection: Be prepared for potential rain or wind, especially in the spring and autumn months. 
Special Occasions: If you're taking a dinner or special event cruise, you may want to dress slightly more formal. 
Sun Protection: If you're taking a daytime cruise, especially during the summer, it's important to protect yourself from the sun. 
Accessories: Consider bringing a small bag or backpack to carry essentials such as sunscreen, a water bottle, and a camera. Ensure it's lightweight and easy to carry.
Frequently Asked Questions About Thames River Cruises
What does a Thames River cruise include?
A Thames River cruise typically includes scenic views, live commentary, and the opportunity to enjoy iconic landmarks along the river.
What is the best time to take a Thames River cruise?
The best time to take a Thames River cruise is during the spring or summer months when the weather is pleasant and the daylight hours are longer.
What are the Thames River cruise opening hours?
They generally start in the morning around 10:00 AM and operate until late afternoon or early evening, with the last cruises departing around 6:00 PM approximately.
Will I get seasick on a Thames River cruise?
Seasickness is rare on Thames River cruises due to the calm waters, but individuals prone to motion sickness should take necessary precautions.
Are pets allowed on a Thames River cruise?
Pets are generally not allowed on Thames River cruises, except for registered assistance animals, but this can vary.
Can I take a Thames River cruise with a group?
Yes, you can take a Thames River cruise with a group
Can I take a Thames River cruise with my kids?
Yes, you can take a Thames River cruise with your kids. It is a family-friendly activity that children can enjoy, offering scenic views, educational commentary, and often special activities for kids on board.
Are the Thames River cruises wheelchair friendly?
It is recommended to contact the specific cruise operator beforehand to inquire about their accessibility features, such as wheelchair ramps, accessible restrooms, and designated seating areas.
What are the facilities on a Thames river cruise?
Facilities on a Thames River cruise may include indoor and outdoor seating areas, onboard cafes or bars, restrooms, and sometimes live commentary or entertainment.
How long is a Thames River cruise?
They typically range from 1 to 2 hours for sightseeing cruises. Specialty cruises, such as lunch or dinner cruises, can have longer durations, usually lasting around 2 to 3 hours.
Is food and drinks served on board?
Yes, food and drinks are often served on board Thames River cruises.